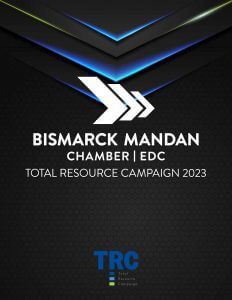 The Bismarck Mandan Chamber EDC launched its first Total Resource Campaign in September 2008. The first year was a learning experience for all involved and we hope that the following frequently asked questions will help you get your arms around this year's TRC.
Why a Total Resource Campaign?
The TRC is a vehicle for the Chamber EDC to become more efficient in a number of ways. First, it is a way for our members to see the breadth of the opportunities available through the Chamber EDC and cherrypick the programs that are most profitable for your business. Second, it allows the Chamber EDC staff to focus on programming and providing services throughout the year. Third, it allows our Chamber EDC to effectively plan and strategize for the upcoming year.
How will the Chamber EDC use the money raised in the TRC?
The money raised is utilized for the operating expenses of the Chamber EDC. The Chamber EDC has two revenue sources: member dues and non-dues revenue (events and marketing). This helps fund member services as well as staff salaries and Chamber EDC operating expenses. The budget of the Chamber EDC has not changed; we're just trying to be more efficient in how we manage our budget and your time.
How do I know what sponsorships are available?
Our staff is working hard on contacting all members about their TRC opportunities. If you haven't been contacted quite yet, call us at the Chamber EDC and we will have someone contact you as soon as possible. If you want to see all of the marketing investment opportunities, go to www.bismarckmandan.com.
We have addressed the most common questions we've heard from our businesses and volunteers. If you have other questions or concerns, please contact Emily Seebold at 701-223-5660 or eseebold@bmcedc.com. Your feedback is essential for future campaign improvement and we appreciate receiving it.