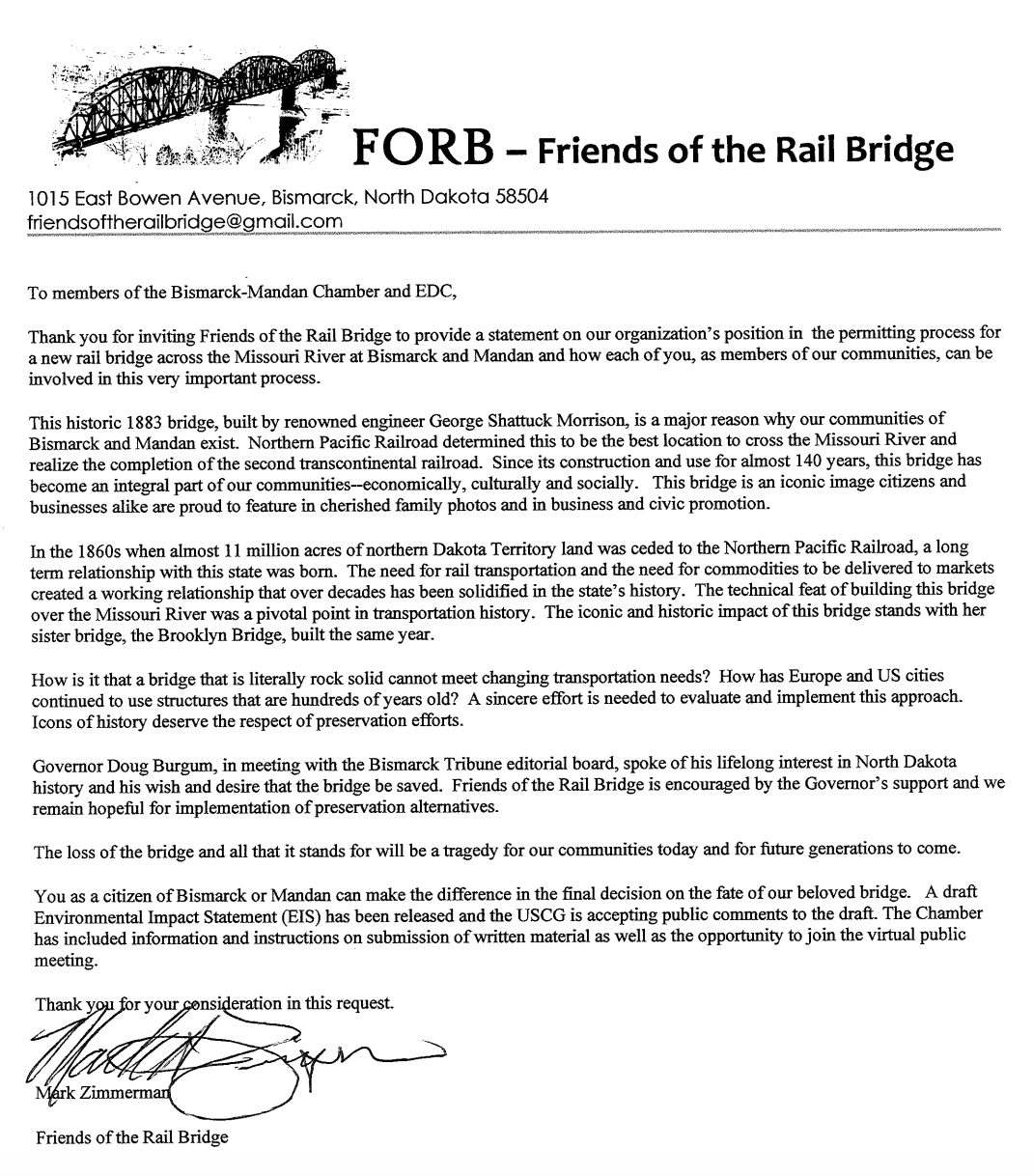 BNSF Railway Bridge - Missouri River at Bismarck-Mandan, ND
To maintain safe, efficient rail service in North Dakota, BNSF Railway needs to build a new bridge. The bridge over the Missouri River at Bismarck and Mandan, ND is over 100 years old. BNSF owns, maintains and funds its own infrastructure. The U.S. Coast Guard is the lead federal agency to issue a permit for construction of a new rail bridge. BNSF has been in this permitting process for 3 ½ years.
14 trains a day carrying loads of agriculture, coal, energy and industrial products travel the bridge. Based on the condition of the current bridge, there are speed and weight restrictions for those trains carrying commodities from across North Dakota and the country. A new bridge must be built soon to ensure continuity of service and safety, as well as improved efficiency.
BNSF builds for the present and the future. Railroad infrastructure is imperative for a healthy growing economy. The region continues to ship record volumes of agricultural products and develop more value-added agricultural opportunities, as well as transport needed energy and other industrial products. The new bridge would serve North Dakota and nationwide customers for another century. To meet future rail capacity needs, BNSF plans to build a bridge that could support a second main track when needed.
BNSF plans to build a new bridge at a cost of $60 million over 2-3 years. Any alternative other than BNSF's plan will add years of delay and tens of millions to the project cost. BNSF wants to build the new bridge and then remove the current structure that is nearing the end of its useful life. Some want to leave the old bridge in place, but that would require BNSF build the new structure off its property, pay millions more to mitigate the rise in the river from having two bridges in the water and impact to additional public and private properties, and delay construction.
Private companies need to be able to invest in their own infrastructure to serve their customers without an endless permit process and millions of dollars in added expense. North Dakota's economy relies on rail transportation, and this route is integral to connecting commodities to export markets throughout the Pacific Northwest. Further delay could impact rail service on this route.
What can you do?
• Tell the Coast Guard of the need for reliable rail service for all shippers and the nation now that the public comment period is open on the draft Environmental Impact Statement (EIS). Requiring BNSF to leave the existing bridge and build a different project than planned will delay construction of the needed new bridge. Ask the Coast Guard to issue the permit for BNSF's planned project without delay! Go to www.regulations.gov and search for Docket Number USCG-2019-0882, and click on "Browse & Comment on Documents" to see the draft EIS and comment, or submit comments directly here by July 26, 2021. Make sure you're reviewing the draft EIS from 2021.
• Join the virtual public comment meeting on the draft EIS hosted by the Coast Guard on June 30, 2021 from 6:00 – 9:00pm CDT.
The call-in number is 1-510-338-9438, access code 182 625 0321
• Questions? Contact Amy McBeth at BNSF, amy.mcbeth@bnsf.com or 763-782-3212.